NEW Grip-N-Loc® Limited Slip Differential: Built to exceed your expectations
Welcome to Auburn Gear's most advanced limited slip differential, the Grip-N-Loc®. It builds upon exclusive technologies previously found in our limited slip line, but is even more robust to satisfy the extreme demands of serious drivers. If you push the limits of performance and traction, perhaps through competition, or simply through extreme weather driving, Grip-N-Loc® is your best choice.
Benefits of the Grip-N-Loc® Limited Slip Differential 
Upgrades your vehicle for safe transfer of increased power/torque across the axle.
Case material is up to 50% stronger than OE cases.
Advanced cone clutch technology provides 25% increase in bias ratio/increased traction.
Heat-treated, hardened-steel gear materials for confidence in extreme conditions.
Exclusive 2-year warranty.
Click/hover on number below for more information
Grip-N-Loc™ case material and design is up to 50% stronger than OE type diffs to provide greater confidence in extreme conditions.
Pinion mate
Exclusive Cone and Clutch with knurled (beveled) side gears, provides increased gripping force and efficient torque transfer when wheel slippage increases. New cone design provides a 25% increase in bias ratio and performance compared to our previous limited slips.
Spring set: A total of 8 heavy-duty springs assist to provide rapid reaction times.
New gear tooth geometry provides increased impact strength and overall toughness, allowing drivers to safely push more horsepower to the wheels.
Let's Talk Torque!
Few drivers realize that torque follows the path of least resistance. When a vehicle with a standard open differential is in a situation with poor traction, power from the driveline goes directly to the wheel with the least traction, making that wheel spin without traction, so the vehicle may not be able to move.
Grip-N-Loc® utilizes exclusive Cone-Clutch technology to impart a bias across the axle when one wheel experiences low traction. When a wheel begins to lose traction and spins, the differential shifts torque away from the low traction wheel to the wheel with most traction.  As wheel slippage increases so does the gripping force within the differential so the Cone Clutches distribute power across the entire axle. The wheel experiencing most traction receives more power and the wheel with less traction gets less power, helping the driver maintain forward motion. 
By multiplying torque to one wheel, greater forces come into play within the differential. To retain integrity under high stress Grip-N-Loc® is engineered with higher-grade materials than used in OE type differentials. Premium materials help Grip-N-Loc® to confidently deliver increased torque bias across the axle. Product strength and durability also allows us to offer a standard 2-year warranty with Grip-N-Loc®.
Grip-N-Loc® versus OE Limited Slip Differentials
1. Increased Bias Ratio – Improved Traction
The bias ratio of spring-preloaded limited-slip diffs varies significantly. As torque on the low traction wheel increases, the bias ratio decreases. For example, if we look at the bias ratio at the "Ice Line" (where the low traction wheel is on ice and its coefficient of friction = 0.1) the typical bias ratio will be approximately 4.5:1 up to 5.0:1.
As the low traction wheel gains traction the bias ratio will decline, delivering more traction to the lower traction wheel. For example, if the bias ratio is taken when the low-traction wheel experiences a .20 coefficient of friction, the bias ratio is only 3.0:1 to 3.5:1 (tire size and weight will also alter these values).
IMPORTANT – Average Bias Range with both axles on similar ground is 3.3:1 to 3.5:1.  However, when one of the tires encounters ice or snow, the bias ratio increases to 4.5 to 5.50:1. This means, the differential as a torque multiplier has the ability to transfer up to 5X the torque of the low traction wheel across the axle to maintain vehicle traction.
2. Case Material Optimized for Durability in Extreme Conditions
Auburn uses different grades of Nodular Ductile Iron case material depending on the application. Original equipment manufacturers typically use lower cost, less durable iron case material.
Additionally, OE cases are typically designed to optimize material cost/weight versus warranty cost considerations. Auburn products have greater mass and are made out of higher grade, more expensive materials. While not universal, in most applications Auburn diffs provide a case design that's up to 50% stronger than OEs.
IMPORTANT – Auburn differentials are built with strength and durability in mind. We do not reduce material to achieve weight savings that compromise strength. Auburn differentials are specifically designed to provide confidence to enthusiasts who are upgrading their vehicles to put more power through the driveline and more torque through the axles.
3. Hardened Gear Material Minimizes Wear
High strength hardened steel is used for all of the gears in all Grip-N-Loc® applications. This material minimizes wear, adding long-lasting durability to moving parts and increases driver confidence in extreme conditions.
4. Gear Tooth Design…Exclusive Cone Clutches
Grip-N-Loc® continues the Auburn Gear tradition of using Cone Clutches to drive axle shafts. In Grip-N-Loc® we have optimized gear design for greater impact strength and toughness, rather than focusing on the cost versus warranty equation. The unique geometry of our side gear and cone clutch assembly increases overall durability, providing greater impact strength and overall toughness. For the high performance driver this provides the ability to push more horsepower through the differential to the wheels, without risk.
5. Exclusive Cone and Cup Design
This exclusive design has been the heart of our limited slip products for many years. A cone clutch side-gear unit creates friction with the carrier to drive both tires. The cone clutches couple with beveled side gears, providing highly efficient torque transfer to the axle shafts. As torque is transmitted to the axles, the side gear separating forces and preload spring seat the cones firmly against the differential case. The amount of force applied to the cone bearings determines the differential's torque transfer capability. When torque levels decrease, as in a cornering maneuver, the gear separating forces also decrease, allowing the axle shafts to rotate independently and the wheel with the most traction receives the most torque.
6. New Cone Clutch Design for Increased Durability
The exclusive cone clutch design described above has been the heart of our differentials for many years. But Grip-N-Loc® cone clutches have been redesigned to provide increased durability.
Competitive testing showed Auburn diffs have very good retention of the torque bias characteristics. This testing was integral in driving us to change from a spiral (threaded) cone design to a new "grooved" cone design that has better wear resistance properties when forced to slip at higher speeds. A change in the cone angle takes further advantage of the improved wear characteristics resulting in an additional 25% increase in bias ratio for better performance.
These design changes address product durability and performance, allowing the bias ratio to remain consistent over the life of the vehicle. Features within the design improve oil flow and cooling of the differential to increase durability. These specific changes resulted in Auburn increasing the standard warranty to 2 years, which we believe to be the industries best warranty.*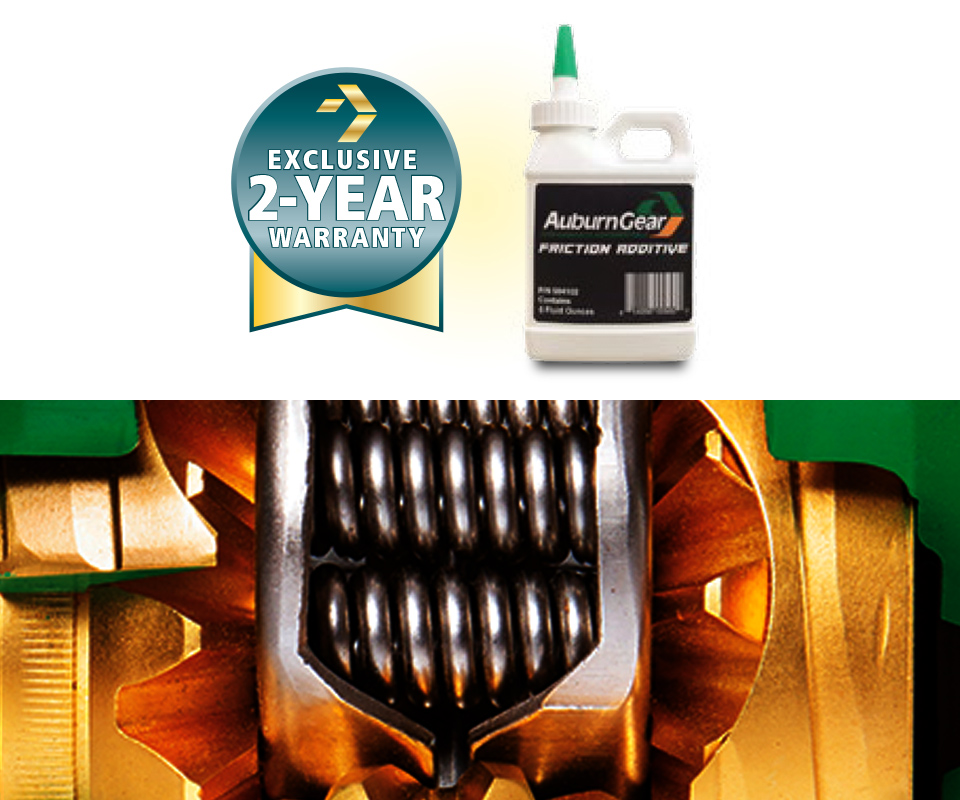 Exclusive 2-Year Warranty
Because we build Grip-N-Loc® with heavy duty case material (up to 25% stronger than OE cases), designed the gears to deliver more impact strength, and redesigned our cone clutches to provide better oil flow and cooling, we have the confidence to offer an industry-best 2-Year warranty on Grip-N-Loc® diffs.
Be sure to use the included Auburn Gear Friction Additive to qualify for the 2-year warranty.*
View Warranty Details.
*Note, we require Auburn Gear friction additive to be used in combination with a high quality mineral based GL5 oil, preferably Auburn specially formulated gear lube.
Grip-N-Loc®Installation Video
This video provides step by step instructions for installing the Auburn Gear Grip-N-Loc® differential.
What's in the box?
Open your new Grip-N-Loc® box and you'll find a number of important items:
Grip-N-Loc® Installation Manual: Our detailed, illustrated manual walks you through the stages of installation, plus maintenance recommendations. It also suggests quick links to our technical support resources and includes your product registration card (you can also register your warranty on this website under the Products menu.
Auburn Gear Friction Additive: A 6 oz. bottle is included to help achieve maximum performance from your differential.
Grip-N-Loc® Decals: Two high-tack, long life decals are included to help show your pride in driving with an advanced American Made diff. Great for bumpers, tool boxes and more.
A Product Card: with brief product information and important web links you should check out. Be sure to use the link to Register Your Two-Year Grip-N-Loc Limited Warranty.
And of course, your new and improved flagship Auburn Gear limited slip differential… the Grip-N-Loc®.